The Joylancer: Legendary Motor Knight
THE FUTURE OF GAMING is here and it brought back JOY AND FEELINGS!
BURST THE LIMIT! THERE IS TRUE JOY IN LANCING!!!
---
== DESCRIPTION ==
*note: this game is currently Windows-only.
In the land of ANTORIA, there exists a people who practice an ancient art of traveling combat, utilizing a new breed of weapon known as the "BURST ARMS" -- hypercharged hybrid motor-weapons wielded by the LEGENDARY MOTOR KNIGHTS OF ANTORIA.
The LEGENDARY MOTOR KNIGHTS are gifted with incredible power, superhuman dexterity, and incredible resilience, making them the perfect guardians of ANTORIA.
When a MOTOR KNIGHT falls, they are quickly revitalized and able to perform in combat again. Their near invincibility allows them to participate in dangerous situations while never being at the risk of death-- something which has become a sport among the knights.
JOY LANTZ suits up in her armor and equips her JOYLANCE-- the drill-lance BURST ARM told of legends-- and ventures into the land of LABYRINNA to conquer the labyrinths and stake her claim as ANTORIA'S #1 MOTOR KNIGHT!
WELCOME TO THE WORLD OF THE JOYLANCER!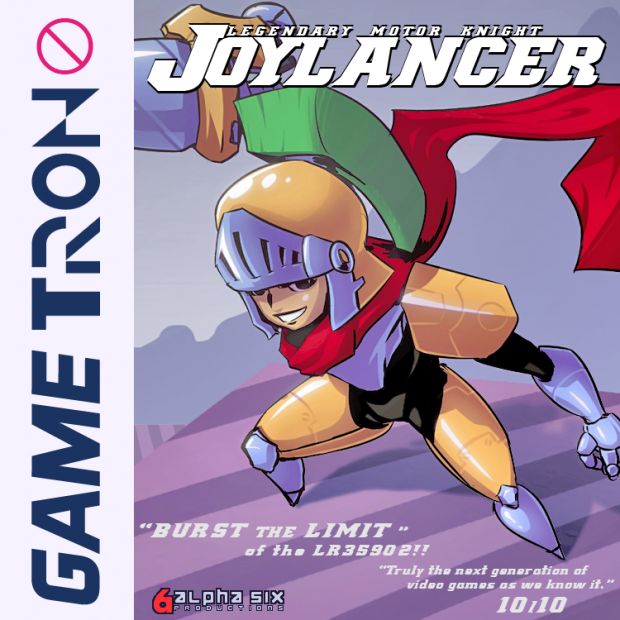 current version: v1.91-gamma (shareware vrsn) [updated mar 1 2014]
!!! 2 PLAYER SUPPORT IN EARLY IMPLEMENTATION !!!
( press any direction, or the lance / jump buttons on the keyboard to tag in a 2nd player! )
full version coming soon, pre-purchase to get it when it releases day one!
---
== DOWNLOAD DESCRIPTIONS & PRE-PURCHASE OFFERS ==
Pre-purchase The Joylancer for $10+ and get it the day it releases as well as any major updates before everyone else!
if you don't want to purchase, a shareware version of The Joylancer can be downloaded for free on this site, which will be progressively updated with additional material over the game's development.
====================================
* IMPORTANT NOTE TO ALL PRE-PURCHASE BUYERS *
====================================
purchasing any of the pre-purchase bundles means that you automatically receive updated builds of The Joylancer and all games included in said bundle.
please be sure to read the included .txt file for information on updates and other releases so you can be sure you get what you pay for!
====================================
---
== CREDITS ==
tj thomas (@TRONMAXIMUM) - alpha six productions
producer / director / designer
concept artist / pixel artist / animator
programmer
composer / audio direction
Jesse Burnett (@SuperBlizzard)
programmer (advisor), game engine framework
special thanks
Brian Valera (@TheDruff)
promotional art- color
if you run into any major crashing bugs when playing or have other technical issues, please e-mail [ administration (at) digitalhaven-ent (dot) net ].
alpha six productions - 2013 / 2014
Download
Click download now to get access to the following files:
The Joylancer [shareware]
(

21332276

)
The Joylancer [pre-purchase]
(

21332667

)
if you pay $10.00 USD or more