The Joylancer: Legendary Motor Knight
HELP SUPPORT THE a6 HOUSE AT FUNDRAZR!
BIG JOYLANCER UPDATE COMING AT THE END OF THE MONTH!
LAUNCHING ON STEAM EARLY ACCESS IN NOVEMBER!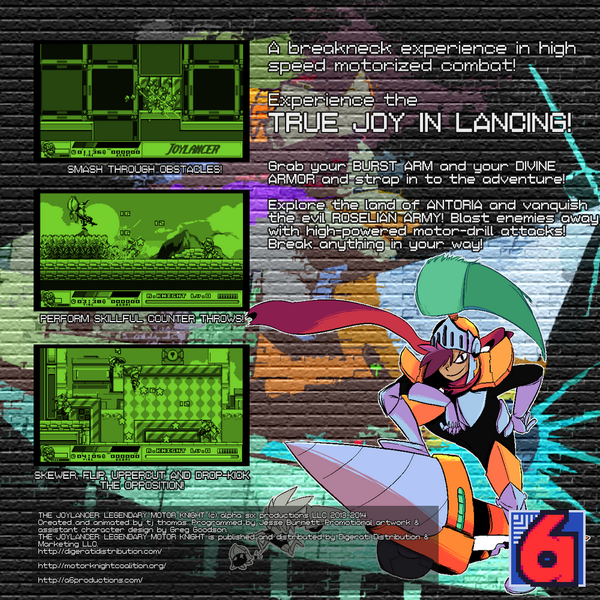 WELCOME TO THE ACADEMY.
EXTREME MOTORIZED ACTION! THE JOYLANCER: LEGENDARY MOTOR KNIGHT is the latest addition to the side-scroller game– a blazing-fast-paced low-color action-platformer with a style and finesse uniquely its own.
Take the role of Joy Lantz, "The Joylancer," and show your enemies the power of the Motor Knights!
Using the hybrid motor-drill-lance weapon, the Joylance, Joy is capable of performing a variety of powerful techniques and stylish maneuvers to thwart the Roselian Army that threatens to take over the formerly peaceful lands of Antoria.
Use the Joylance as a powerful weapon! Use the Joylance to blast off into the sky! Use the Joylance to slide around at high speed and slam into enemies!
Use the Joylance for everything!
THERE IS TRUE JOY IN LANCING!
---
== DESCRIPTION ==
*note: this game is currently Windows-only.
Please Note:
The current public version of Joylancer is very outdated, as we have rebuilt the engine a few times in order to improve the general interaction with the player and the game.
Joylancer will be releasing a huge update in October to celebrate its upcoming release on Steam!
Buying Joylancer on itch.io will get you a Steam key that you can use to redeem the copy on Steam when it releases for Early Access on the 26th!
current version: v2.7.6beta [updated may 14 2014]
INTRODUCING: "THE JOYLANCER EX+: LEGENDARY MOTOR RIVALS!"
THE LANTZ SISTERS HAVE BEEN REUNITED FOR JOYOUS COMBAT!
Play as the speedy, graceful Grace Lantz (Gracelancer) and her unique lancing style!
Grind Rails and Burst Cannons make their return in a brand new Gauntlet map!
Motor Combat has arrived! up to 4 players can engage in immortal lancing duels!
!!! ONLY AVAILABLE IN THE PRE-PURCHASE VERSION! !!!
---
== DOWNLOAD DESCRIPTIONS & PRE-PURCHASE OFFERS ==
Pre-purchase The Joylancer and get into all exclusive updates & secure yourself a place for the full game while it's cheap!
if you don't want to purchase, a shareware version of The Joylancer can be downloaded for free on this site, which will be progressively updated with additional material over the game's development.
---
== CREDITS ==
tj thomas (@TRONMAXIMUM)
producer / director / designer
concept artist / pixel artist / animator
programmer (original version)
composer / audio direction
Jesse Burnett (@SuperBlizzard)
programmer (The Hero's Gauntlet & onward)
assistant designer
Greg Goodson (@jetgreguar)
promotional artist (EX+ & onward)
assistant character designer (EX+ & onward)
if you run into any major crashing bugs when playing or have other technical issues, please e-mail [ contact (at) a6productions (dot) com ].
alpha six productions - 2013 / 2014
Purchase
In order to download this game you must purchase it at or above the minimum price of $10.00 USD. You will get access to the following files:
The Joylancer EX+: Legendary Motor Rivals
(

14551486

)
Download demo